from
www.huffingtonpost.com/2014/03/27/food-stamp-delays-north-carolina_n_4994822.html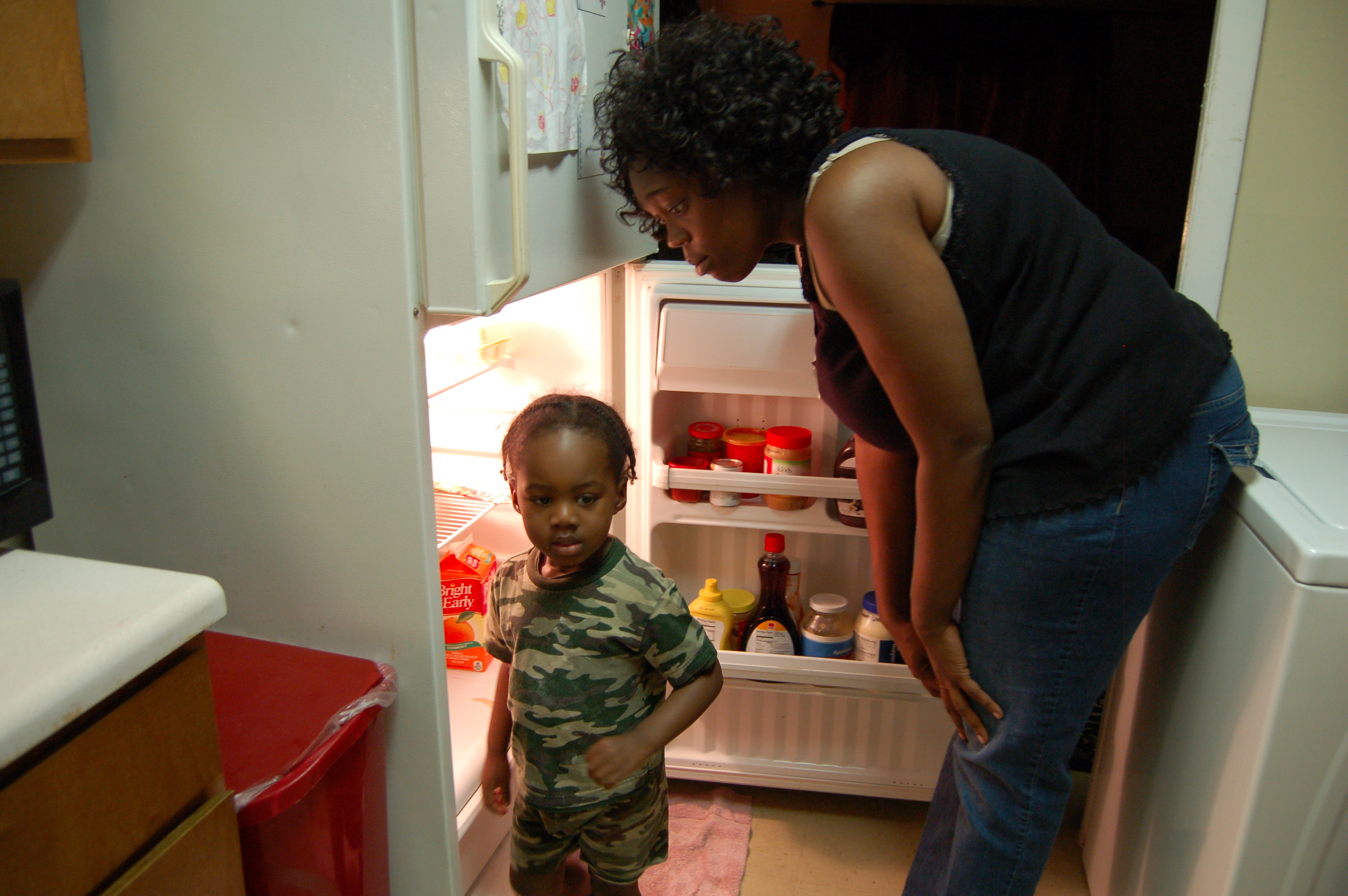 Camilla Lewis and her son, Jamarri, did not receive food stamp payments for three months. (Photo: Gerry Smith/Huffington Post)
WAKE FOREST, N.C. -- Janette Simon has four chicken legs and five kids to feed.
Her freezer is bare. And her latest trip to the food pantry yielded little else for dinner this night: a bag of day-old croissants, a box of Corn Flakes, and some canned goods.
She slathers barbecue sauce on the chicken, slides the pan in the oven, and begins her nightly ritual of distracting her five children from hunger.
The 44-year-old single mother often skips dinner herself. She hides Ramen noodle packets in her closet to ration food. She tells her two youngest kids to play outside "so they ain't thinking about eating."
"That's what I have to worry about," she says. "I gotta look at these kids with their sad faces and no food."
On the 13th of every month, she has counted on seeing a $600 payment on her food-stamp debit card. But now, that payment is a month late.
Simon and thousands like her in North Carolina had enough to worry about before a computer glitch began to fray this basic part of the social safety net.
Last July, government computers across the state repeatedly crashed, preventing caseworkers from processing food stamp applications and recertifications for weeks. Eight months later, North Carolina officials are still scrambling to clear the resulting backlog.

The food stamp delays can be traced to troubles with a computer system designed by Accenture, one of the world's largest consulting firms. The company is among a small group of politically connected technology contractors that receive government business across the country despite previous criticism of their work.
Accenture won the North Carolina contract after spending thousands of dollars on political contributions and lobbying in the state. North Carolina hired Accenture even though at least six other states -- Colorado, Florida, Wyoming, Kansas, Wisconsin and Texas -- have canceled contracts with the company in the past decade over problems with its computer systems.
The glitches in North Carolina mark another example of government technology gone awry, turning a program created to sustain millions of people through hard times into a new aggravation. The high-profile failure of the federal health care exchange last fall illustrated what many low-income people have encountered for years: faulty computer systems and websites that prevent them from receiving public assistance on time.
In North Carolina, the fix was simple: In August, caseworkers found that their computers stopped crashing if they switched browsers from Internet Explorer to Google Chrome.
But the backlog kept growing. By the end of last year, more than 30,000 families in North Carolina had waited more than a month to receive food stamps -- a violation of federal rules that require routine applications be processed within 30 days. About one third of those families had waited three months or more.
The U.S. Department of Agriculture, which oversees the federal food stamp program, has threatened to take a rare and drastic measure: cutting off $88 million in funding to North Carolina if the state doesn't clear the backlog of cases by March 31.
"These delays are completely unacceptable and a serious failure on the part of North Carolina," Donald Arnette, the USDA's regional administrator, wrote in a December letter to state officials. "We have grave concern for the low-income people of North Carolina who are waiting for the assistance."
Aldona Wos, secretary of the North Carolina Department of Health and Human Services, which oversees the state's food stamp program, declined to be interviewed for this story. In a statement to The Huffingon Post, Wos said North Carolina is "committed to providing quality services to our residents by ensuring accurate, timely processing of food stamps."
She said the state met an initial federal deadline in February to process the longest-waiting food stamp cases after a "herculean effort" by government employees. "As we approach the USDA's March 31 deadline, the counties and state are continuing to work tirelessly to meet federal timeliness standards," Wos said.
Last week, Wos said county and state officials expect to meet the deadline. About 1,000 food stamp cases were still considered to be "untimely" by federal standards, according to state figures released last week.
North Carolina officials blame the food stamp delays partly on Obamacare. Under the health care law, states were required to update their aging computer systems to accept Medicaid applications by Oct. 1 of last year.
North Carolina chose to combine food stamp, Medicaid and other welfare programs into a single computer system. When state officials updated the software in July to comply with the law, they did not have time to properly test the system and ran into glitches that created the food stamp delays, according to Julie Henry, a spokeswoman for the state Department of Health and Human Services.
But the USDA has dismissed the state's explanation, noting in a January letter that many other states complied with the federal health care law "without the dramatic impacts" on food stamp processing that occurred in North Carolina.
rest at
www.huffingtonpost.com/2014/03/27/food-stamp-delays-north-carolina_n_4994822.html